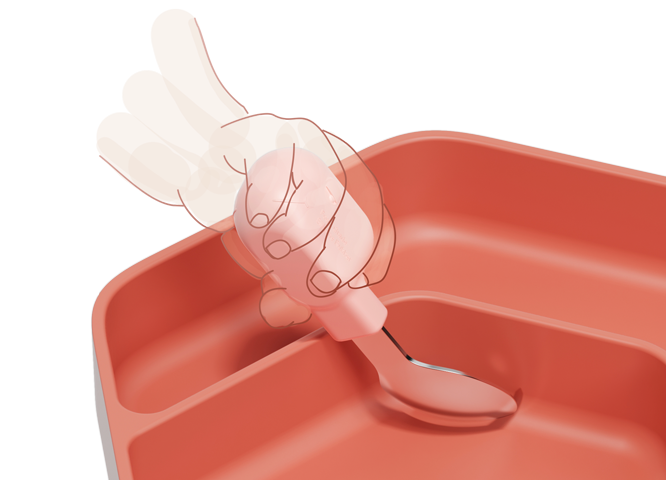 You may be wondering if you can use ordinarily used steel spoons as your baby's self-feeding utensils. After all, it doesn't matter what toddler utensils you use as long as the food you prepare for your baby is nutritious. Is that true for your baby?
---
Correct the misconception
Some old-fashioned parents who use the exquisite spoons sent by their friends as a tool for their babies to feed themselves will not matter and say that you can feed a toddler well without buying another professional utensil.
But most feeding institutions recommend using special baby utensils to feed because it is easier for them to eat and will not harm their delicate mouth. If you have a baby with more teeth, or you are in trouble because all plastic spoons are in the dishwasher, then stainless steel baby spoon & fork set is your best choice.
When can babies use utensils?
Even if your toddler has shown a strong possessive desire for spoons since she first started eating solid foods, she has been grabbing the spoon from you. But to master self-feeding with Utensils requires a lot of practice and hand-eye coordination. It usually takes 18 to 24 months before she slowly masters the ability to hold a spoon or fork independently. So it's worth starting this process when she turns 1 year old — or earlier if she starts to show interest.
Most experts recommend introducing utensils (including forks and spoons) between 10 and 12 months because your toddler starts to show signs of interest. So you don't have to wait until the first birthday of your lovely sweetheart. If you are using a baby-led weaning method to introduce solids, you can start to provide a spoon between 6 and 9 months to scoop thick, scoopable foods such as yogurt or oatmeal. From about 15 months, she will use a fork to obtain solid food because her fine motor skills have become more acute.
How to choose the right spoon or fork for your baby
Young mothers will definitely choose the most suitable and friendly spoons and forks for little sweethearts. But I can feel your anxiety. You are often caught in a variety of spoons and forks of different materials and appearances and don't know how to choose the best one. Please let me give you a professional answer to solve your urgent needs.
●The best spoons used for infant-led weaning in the range of 6 to 9 months are small and light, which is easy for the baby to grasp. BPA-free silicone models are better than metal or plastic models because if the baby decides that he would rather chew on a spoon than eat with a spoon, the soft material will not hurt her mouth.
●When you are ready to upgrade to toddler spoons and forks, look again for a model that is light enough for your child to lift easily, and small enough to be comfortably held in her hand. Metal utensils are good, but options with BPA-free plastic or silicone handles may be easier to grasp. (If you want an all-plastic set, it should also be BPA-free.)
●Also, check whether the prongs are blunt to protect your little cutie in case she accidentally injures herself.
Recommend to you HEORSHE's utensils for toddlers, which meets the above requirements very well.
●Handgrip spoon and fork sets are designed with small hands in mind, ergonomically with handles that are not too long or too narrow.
●Rounded and smooth edge spoon, causing no chokes and hurts, baby can use it by themselves safely.
●And the spoon size is just considered for the volume of each bite.