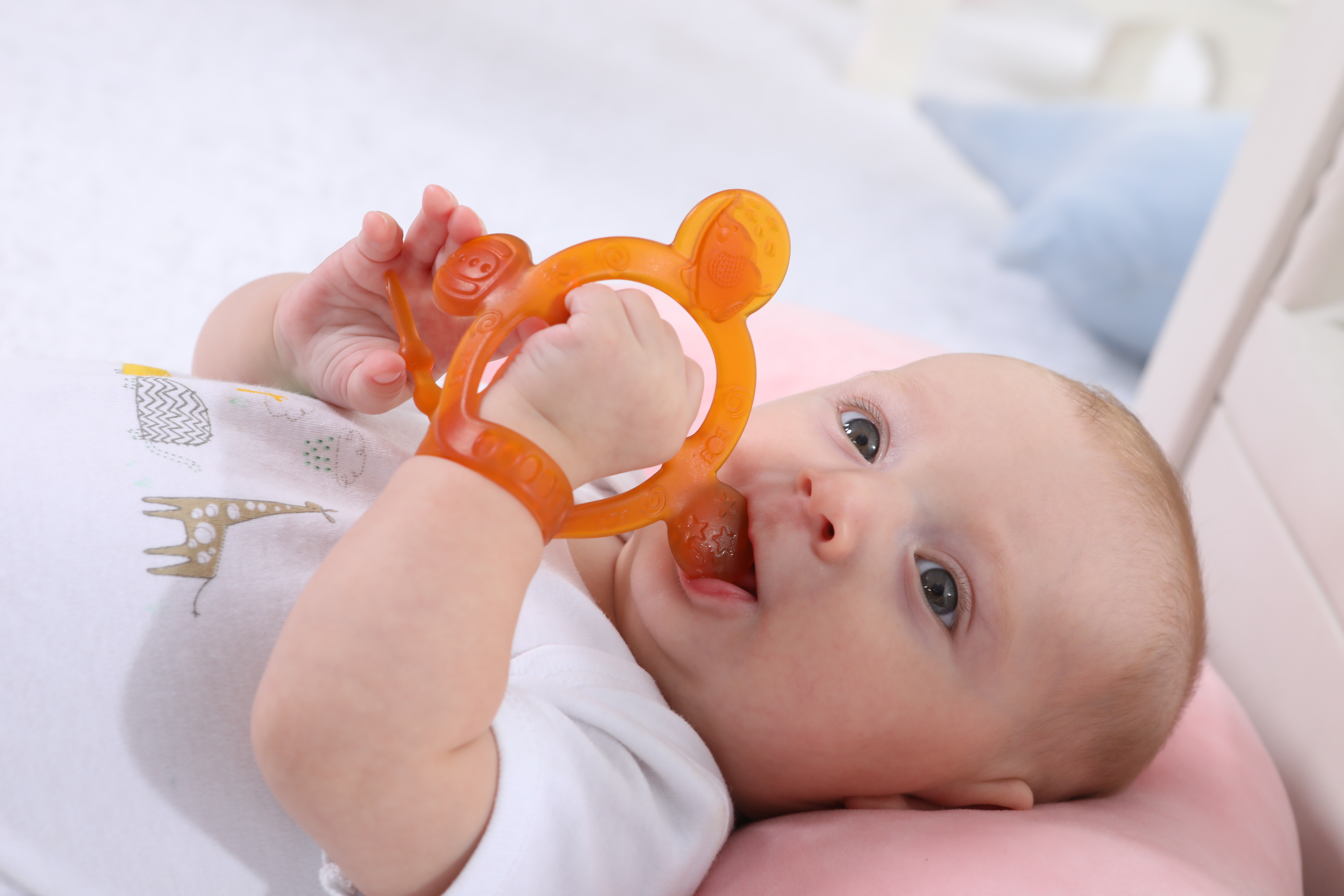 When babies start to grow teeth, they also naturally tend to soothe their gums by chewing endlessly on anything they can get. Those sharp little teeth are passing through the gum line, making a very painful and irritable little baby.
Teething can be one of the most challenging aspects of raising a child. It interferes with sleep so that we don't forget to drool.
Having teethers on your hands can and will save the situation. Whether you are at home, in the checkout line, or preparing for a long-distance flight, these magical little things are essential for your diaper bag and nursery.
When they are not proving teething relief for your tot, they can also help your child reach developmental milestones, such as reaching, grasping, and shaking. They also encourage hand-eye coordination while providing comfort and fun.
It is important to know that not all teething toys are created equal. Unfortunately, some mainstream toys may contain harmful biological chemicals, such as:
PVC/Vinyl
Phthalates
BPA
Latex
Lead
Antimony
Cadmium
The last thing you want to see is that your child consumes these toxic ingredients. Here is a simple guide that outlines what to avoid and pay attention to when buying non-toxic teethers and baby toys.
6 ingredients to avoid
Remember, some toys may be in the bathtub, in your diaper bag, or scattered around the house, so they need to be durable. Toy manufacturers use many different materials to make durable or flexible toys, so it's important to understand the materials they use and whether they can harm your child. The following six ingredients should be avoided in teething toys:
1. Polyvinyl chloride/vinyl: Polyvinyl chloride is the first ingredient to avoid when choosing teethers and toys. PVC contains chlorine and may also contain lead and other heavy metals. It also contains hormonal disruptors, phthalates. Adding phthalates can make the material as soft and flexible as rubber ducks and bath toys.
2. Phthalates: Phthalates have never appeared on any packaging. They are disguised as "fragrance" or "perfume" and added to materials such as vinyl. Phthalates are used to bind odors to products or to make products softer and more flexible. According to many independent studies, they also have estrogenic properties that disrupt the hormone balance in the body. You must make sure that all baby products you buy are phthalate-free.
3. Bisphenol A: BPA is contained in hard plastics, and has also been proven to mimic estrogen in the body. Nowadays, most teethers are labeled as BPA free Wristband Teether; however, it is better to know what to look for. Plastics with the recycling symbol "7" are usually polycarbonate and may contain bisphenol a.
4. Latex: Latex can cause allergies or be contaminated by a carcinogen called nitrosamines. If you can, it's best to skip this one.
5. Varnishes, paints, stains: Lead is still present in paints and varnishes used in toys. Wooden toys are a better choice, but make sure that the toys you choose are polished with 100% beeswax and use water and plant paints.
6. Cadmium: Usually used as a cheap substitute to lead. Cadmium can be found in metal coatings on cheap toys. Cadmium exposure is associated with low birth weight, learning disabilities, breast cancer, lung cancer, and kidney disease.
Looking for alternative ingredients
Babies spend a lot of time chewing and sucking teething toys. Here are some non-toxic baby toys ingredients that can be chewed safely without worrying about toxic chemicals:
100% natural rubber
Untreated natural hardwood
100% organic cotton
Food grade silicone
Food grade safe plastic
Homemade teething rings
Here are two effective natural remedies that can relieve your child's teething and gum pain.
Washcloth teether: Wet a clean organic cotton cloth and put it in the refrigerator for a few minutes. Let your baby chew for a while, the cold will help relieve the pain.
Frozen fruit teether: Cut banana, cantaloupe, or mango into pieces and put them in a BPA-free mesh feeder. They like to chew these gums, which is a healthy and delicious gum snack.